Courses


Publications


Documentation


Case report


Consultation


Courses submission form!


School students pages




News


02.8.2013
20-th Anniversary of MADOT

Dear colleagues,
It is our pleasure to inform you, in the name MAOT, that at November 15-16th 2013, it will be held big meeting in Skopje - 20-th Anniversary of MADOT (Macedonian Association of Orthopedics and Traumatology). About 20 well-known names in the field of orthopedics and trauma from Europe have confirmed their presence.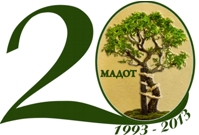 Search site by any word or precise words.