Courses


Publications


Documentation


Case report


Consultation


Courses submission form!


School students pages




News


19.4.2013
Orthopaedic Meeting in Nis

Dear colleagues,
On Friday 26.4.2013, in Nis will be held Serbian orthopaedic surgeons meeting in Nis University building.
Topics:
1. Bumbasirevic M.: Management of mangled extremities,
2. Mitkovic M.: Biomechanics of bone tissues regeneration,
3. Milenkovic S.: Surgery of pelvic fractures,
4. Micic I.: Surgical treatment of upper extremities fractures.

Discussion will be after lectures. On the end of meeting we invite all of you on free lunch organised by meeting organizer.

Prof. dr Milorad Mitkovic
Corresponding member of SASA
President of STA

Pictures below: University building and conference room.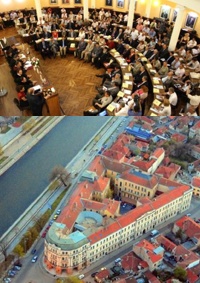 Search site by any word or precise words.