Courses


Publications


Documentation


Case report


Consultation


Courses submission form!


School students pages




News


06.11.2010
12th ESTES CONGRESS IN MILAN

Dear friends,
I personally invite you to the forthcoming 2011 ESTES Congress, that will be held in Milan, April 27-30, 2011. Information about the Congress and for submitting Abstracts are available online in the website of our Society (www.estesonline.org), with a blinking link to the Congress home page (www.estescongress2011.org) and other interesting news. ESTES is a growing and young Society and its meeting an extraordinary occasion to meet experts coming from all continents.

DEADLINE FOR ABSTRACT SUBMISSION WAS EXTENDED TO NOVEMBER 15th, 2011

So, doesn't miss this unique opportunity to share your expertise with the Community of European Surgeons and Traumatologist dealing with trauma and emergency surgery.
Thank you in advance for your active participation to the 2011 ESTES Congress …and don't forget to advertise this Meeting among your colleagues too!
Looking forward to meeting you in Milan, best regards,
Milorad Mitkovic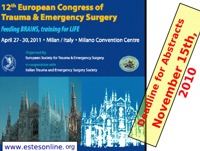 Search site by any word or precise words.