Courses


Publications


Documentation


Case report


Consultation


Courses submission form!


School students pages




News


24.12.2006
Injury published paper from Nis (Serbia)

The known British journal "Injury" has published paper from Orthopaedic and Traumatology clinic in Nis about treatment of open subtalar dislocation. The main trick in treatment was using of Mitkovic External Fixator with mild traction in order to decrease the pressure and to prevent aseptic necrosis of talus.
Reference:
Milenkovic S, Mitkovic M, Bumbasirevic M., External fixation of open subtalar dislocation. Injury. 2006 Sep;37(9):909-13.

On photograph below is shown patient before, during and after the operation and below is photograph of the autor.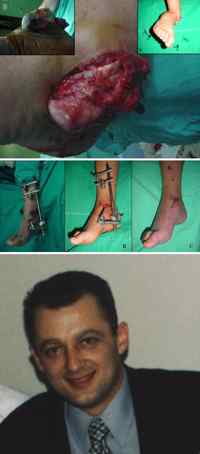 Search site by any word or precise words.