Courses


Publications


Documentation


Case report


Consultation


Courses submission form!


School students pages




News


23.5.2005
NEW WEB SITE STARTS

Dear colleagues,
It is my pleasure to announce opening of this new web interactive site which can help you to communicate with this school or with other colleagues worldwide. Somebody of you can be invited to give a lecture or to be instructor during our courses but you can ask to present some of your interesting results if accepted by scientific board. If you have any personal contribution in development of new device, instrument or implant we can help you in further progress of your idea by providing connection with development research institution and producer and by involving you in this foundation.
Best regards
Milorad Mitkovic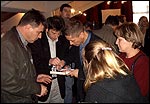 Search site by any word or precise words.