Courses


Publications


Documentation


Case report


Consultation


Courses submission form!


School students pages




News


16.8.2006
AFOR MEETING IN VIENNA

From the June 8-10 2006, in Vienna, it has been held meeting of AFOR (Association for Orthopaedic Research), organized by Prof. Kotz and Stryker. Attended about 200 invited participants. The main topics were hip and knee endoprothesis current treatment options and remaining challenges in hip and knee replacement. Also MIS has been discussed. Nice lectures moderated by Prof. Kotz have been followed by practical exercises including navigation.
On photograph below, in Shoenbrunn, before gala dinner, from left to right:
Prof. Mitkovic, Mrs. Kotz, Prof. Kotz and Prof. Bumbasirevic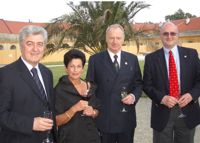 Search site by any word or precise words.