Courses


Publications


Documentation


Case report


Consultation


Courses submission form!


School students pages




News


16.8.2006
Firs Navigation in Serbia

In the beginning of April it has been performed first time in Serbia total knee replacement using Navigation. Application of this high technology enable surgeon to perform exact bone cutting and component implantation. First operation was performed on patient with rheumatoid arthritis, with completely destroyed knee joint with 25 degrees of valgus deformity, who was disabled to walk without crutches. After the operation he walks normally without any support with excellent knee function (full extension and nearly full flexion). Prof. Mitkovic, who performed this operation, has already engaged in navigation projects from 1998.

Photograps below:

A. Prof. Mitkovic giving details of patient's medial tibial condyle using special pointer.
B. Screen showing progress of operation using navigation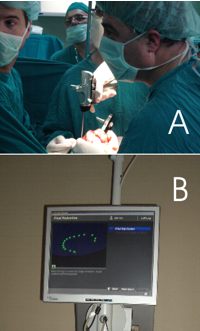 Search site by any word or precise words.