Courses


Publications


Documentation


Case report


Consultation


Courses submission form!


School students pages




News


19.12.2019
6th Congress of STA - March 4-7th 2019

Dear colleagues,
The Sixth Congress of the Serbian Traumatology Association (STA2020) will be held from 4-7th of March 2020 in Vrnjacka Banja.
This Congress will be predominantly dedicated to complications in orthopedic surgery. There will also be presentations by eminent guests and our experts on the latest achievements in the treatment of the injured people, with the aim of continuous innovation of knowledge.
Congress is already accredited - the accreditation number is A-1-2128 / 19. Lecturers receive 13 points per call, while passive participants score 8, oral presentation 11 and poster 9. Each of the first 3 co-authors of the oral presentation or poster receives 0.5 points.
The deadline for abstracts January 31, 2020. In addition to sending a abstract, papers can be sent in full, since in addition to the collection of summaries, a collection of submitted papers will be printed in its entirety.
You can find more detailed information about everything on the Congress website sta2020.mondorama-kongresi.rs through which you can usually send abstracts and papers as well as registration of participation.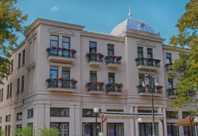 Search site by any word or precise words.