Courses


Publications


Documentation


Case report


Consultation


Courses submission form!


School students pages




News


30.12.2018
Mery Christmas and happy New Year 2019

Dear colleagues,
Dear associates,

We are happy to celebrate you, and in the new year 2019, we want you and your loved ones, good health and lots of happiness and success.

Mitkovic School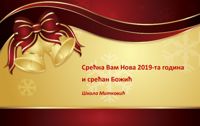 Search site by any word or precise words.