Courses


Publications


Documentation


Case report


Consultation


Courses submission form!


School students pages




News


03.12.2005
Meeting of Orthopaedic Association of Montenegro

At the 2nd of December 2005, in the clinical center of Podgorica, has been held meeting of Orthopaedic and Traumatology association of Montenegro. The topic was: CONTEMPORARY CONCEPTS IN INTERNAL FIXATION OF LONG BONES. Lecture of 40 minutes has been given by invited speaker Prof. Mitkovic. In the following discussion they have been additionally compared Intramedular fixation, Plating, Closed fractures reduction and Mitkovic Internal fixator application. After the meeting, Director of the clinic and Association president, Ass. Prof. Zarko Dasic, has organized continuation of discussion in nice restaurant with famous Montenegro's hospitality.
Before the meeting Director of the clinic has organized word round for the guest including cases reports. It has been impressive high lever of organization of Podgorica clinic (1,100 operations per year), high range of professional skills (treatment of injuries and disorders of locomotor system including spine in adults and children) and high results of surgical treatment.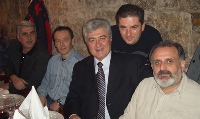 Search site by any word or precise words.