Courses


Publications


Documentation


Case report


Consultation


Courses submission form!


School students pages




News


19.12.2016
55 YEARS OF BANJICA INSTITUTE

Institute for Orthopedic Surgery Banjica celebrated its jubilee - 55 years of work. This highly specialized health institutions, tertiary, today enjoys a high professional and scientific reputation not only in the country but also at international level. It is impossible to talk about the prosperity Banjice a first not to mention Professor Branko Radulovic, idol of many generations of orthopedic surgeons. Today Banjica is run by Professor Zoran Bašèareviæ as the fifth director in the 55-togodišnjoj history. Following his achievements it can be expected to be encouraged expertise, science, high professionalism and high ethical standards.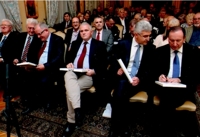 Search site by any word or precise words.