Courses


Publications


Documentation


Case report


Consultation


Courses submission form!


School students pages




How would you treat this case?


C3 tibial pilon fracture
25 Dec 2010

This 42 years old man sustained C3 pilon fracture when he felt down from 3mm high. He was treated surgically 6 hours after the injury. It has been done open reduction, minimally invasive internal fixation, using screws and K-wires, and external fixation using Mitkovic type external fixator with pins in tibia, calcaneus and 1st metatarsal. Hinging articulation of the frame has been set in ankle joint axis rotation (here not explained). Three weeks later hinging joint has been unlocked allowing plantar and dorsal ankle flexion. Full weight bearing has been allowed 2 months postoperatively. It has been received very good end functional result. Photography after the injury (A, B), 4 weeks postoperatively (C, D, E, F) and 3 years after operation (G, H) and end functional result.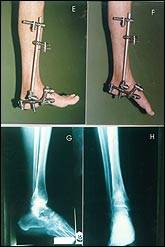 You are on page No. 1


There is no messages for this thema at this moment.


Vaš predlog leèenja:






Search site by any word or precise words.